Seminars and Training
"Learning is either a continuous thing, or it is nothing."
Frank Tyger
PlaySafe is proud to have developed an 8-part educational webinar series for IPEMA (International Playground Equipment Manufacturers Association) on playgrounds. After watching the video, stop by the IPEMA website (http://www.ipema.org/safety_school.cfm) to sign up.

PlaySafe offers training in and out of the classroom. From supervision training for teachers and childcare workers to risk management training for administrators and owners, PlaySafe's staff has some of the best instructors in the country. We can provide your company with one of our tried and true training courses or work with you to develop a workshop that will meet your specific needs.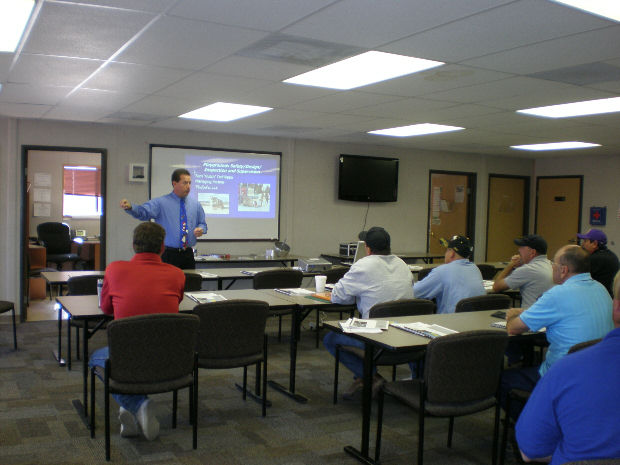 Examples of Training Sessions we have previously provided:
 - Ballfield Maintenance
 - Park Maintenance
 - Building an ADA accessible playground
 - Supervision
 - Risk Management on Playgrounds
 - Preparing to take the NPSI course
Seminar Series

By utilizing the expertise of Samuel DeFillippo, PlaySafe, LLC is able to offer the Playground Seminars Series that combines written information with field experience. Many years of academic study and practical experience have made Mr. DeFillippo a rarity in the field of playground safety. PlaySafe, LLC seminars cover the logic behind the rules and regulations, as well as how they should be applied in daily operations. These courses are customized to meet your individual needs based on your actual equipment and situation. Seminars are conducted in a classroom setting and use lectures, presentation materials, safety videos, and question and answers sessions, combined with an onsite evaluation of a local playground site to ensure a quality learning experience.




Below is a list of courses that we currently offer:

Course One - Development of a Playground Maintenance / Risk Management Program

Why Have a Safe Playground?

Common Playground Injuries

Playground Safety

What is Adequate Surfacing?

Surfacing Compliance

Playground Site

Hazards vs. Risk

Responsibility of an Owner / Operator

Responsibility of the Installer

Purchasing New Equipment

Qualifying A Manufacturer and

Choosing A Design.

Training staff to the most current standards is often a difficult task. Often times, maintenance personnel are not properly instructed on playground equipment and how issues should be addressed. This seminar offers maintenance personnel an opportunity to learn about the following topics:

 

Course Two - Preparation for the Certified Playground Safety Inspector (CPSI) Course and Exam

In this course, many playground safety concepts will be explored from a variety of sources. 

It is not uncommon for someone who attends the Certified Playground Safety Inspector (CPSI) course to feel overwhelmed with the amount of information and the pressure of passing the exam. Information in this seminar reviews issues that are covered in the course and prepares attendees for the learning (or classroom) and testing environment. To help with the understanding of the written CPSI materials, seminar participants will have the opportunity to conduct an actual evaluation of a local playground.

 

Course Three - Supervision

The Types of Injuries from Equipment,

Playground Equipment Related Fatalities by Hazard,

Where are These Injuries Occurring?,

Types of Injuries from Hazards,

Supervisor Duties,

Surfacing,

Child Development Behavior and

Unseen Hazards.

Did you know that many playground injuries can be avoided? It's not usually the equipment or the surfacing that causes the injury, but how the equipment is used and the children's action on or near the playground. This seminar deals with:

Course Four - Defending Your Agency Against Playground Lawsuits




Playground Liability

Child Development 

Concepts of Tort Liability

Playground Design 

Principles of Standard Care

S

ignage

Working with your Attorney from the planning stage through the operation of your playground, and

Supervision

 

There are times that issues arise on playgrounds that continue into the legal system. PlaySafe, LLC staff provide detailed data that can assist your staff and agency if an issue moves into the legal arena.



This seminar provides information such as:



(Just for kids!) Course Five - Playing on Playgrounds Safely
It is helpful to show children how to use playground equipment in a safe, fun way. During this workshop PlaySafe, LLC staff visits your site, presents a video on playground safety, and accompanies the children on the playground to see how to use equipment and what the specific playground equipment components are designed for. This hands-on approach has been successful in the reduction of injuries and misuse of equipment.
Conducting a Facility Risk Review
One of the most common claims in sport related injury lawsuits is that of dangerous facilities and/or equipment. This session will look at the process of performing a facility risk review and at some of the common safety problems associated with sport and recreation facilities, grounds, and equipment. This includes the initial inspection, treatment of risks, development of a checklist, establishing periodic inspections and documenting efforts made for safety.
Planning Recreation and Sports Facilities for Safety and Risk Management

Sports and recreation facilities that are poorly planned, designed, or constructed often increase participants' exposure to hazardous conditions and not only render the facility harder to maintain, operate, and staff, but can also significantly increase the organization's exposure to liability. A poorly designed facility can usually be traced to a lack of effort or expertise of the planning and design team. It is not uncommon for a recreation or sport facility to be designed by an architect who has little or no experience in that type of building. For those without the proper background and understanding of the unique properties of sport and recreation facilities, many opportunities for mistakes exist that may lead to increased problems related to safety, operations, and staffing. This session will look at common design problems and ways to avoid them.
Coaches and Recreation Administrators: What are Our Legal Duties?

A risk of certain injuries is inherent in physical activity and cannot be eliminated without changing the nature of the activity. Other injuries, however, are avoidable and often result in lawsuits against the coaches, program directors and organizations involved. This session will look at the legal duties expected of those who coach and administer sport, recreation and fitness programs.
Legal Standards and Guidelines for Strength and Fitness Professionals
Participant injuries and resultant lawsuits are of great concern to strength/fitness facility managers, staff and personal trainers alike. The American College of Sports Medicine and the National Strength and Conditioning Association have each published standards and guidelines for providing reasonably safe fitness programs. This session will provide an overview of these standards and guidelines and look at what is legally expected of strength and fitness professionals. Numerous real life examples will be provided.
Aquatic Risk Management Workshop
The Aquatic Risk Management Workshop will include practical methods for reducing the risk of injury in and around swimming pools. A brief overview of negligence and standards of care in the aquatic industry will be followed by discussion of facility design, equipment, chemical use and storage, and environmental hazards. Other topics to be covered are hiring and training of staff, techniques for safety assessment, and emergency action plans.
 
Recreation Programming 101
The following workshops are a series that will take your staff from a starting point in their careers through university type training - into the professional level. This series can be repeated throughout the year - 1 workshop every 4 months - allowing existing staff and new staff to repeatedly move through the 3 workshops until completion.
Fundamentals of Program Development:  This 6 hour workshop covers the essentials of preparing, conducting and evaluating a quality parks and recreation program. Each of the basic program development steps will be covered in detail. The intent of the session is to create the skill set so that staff can conduct high quality experience for their user group. Subjects covered include such items as: program goals and design, staffing and volunteer skills, equipment and facilities check lists, budget development, marketing plans, evaluation designs and many other topics. The booklet The Essentials of Program Development will be provided.
Special Event Programming: This 6 hour workshop is a follow-up to Fundamentals in Program Development and highlights the essential skills for conducting a small to large scale special event. All aspects of producing such an event are covered in the workshop including: creating volunteer committees, training and leadership skills, working with community vendors, obtaining legal clearances, and other important elements. The booklet Special Event Economic Development will be provided.
Marketing Recreational Programs: This 6 hour workshop is a follow-up to both of the other workshops and develops an in-depth skill set in the essentials of a market study and how to design marketing materials and a marketing plan specific to recreation programs. The session covers everything from SWOT and GAP analysis to focus group information sessions. The booklet Changing Demographics: A Tool Box Approach will be provided.
Ballfield Maintenance Workshop
This "hands on" program will cover:

Learn how to care for the Infield dirt/skin area

"Lip" removal, Moisture amount, Mats, Tamping, Time of year (for example: spring-hard - due to wind, summer - deep grooves - due to rain, fall - just right), Bases and areas around them, Working the clay. (chalk is an issue)

Learn how to care for the Outfield - Turf
Irrigation System - placement of heads - watering (head to head), flooding, and trip hazards, Standing Water, Top Dressing/Over Seeding (off season, during games - like golf), Warning Track (must be kept level - no holes/wash out), Foul line.

Additionally, learn about: Lighting, Fences (posts are not loose in the ground, connection points, damaged areas, wires), Parking lots (uneven areas, sink holes), Structures (buildings, dugouts, bleachers, tables, trash receptacles), Litter (Keep America Beautiful study), Rules, Inspections - frequency and paperwork (checklists), Learn how to use the newest equipment by using it!
 
Training Modules
The Training Modules are hosted by members of the PlaySafe, LLC Planning Team. Dr. Craig Kelsey has 30 years experience in the parks and recreation planning field, coupled with a PhD in parks, recreation and environmental planning. He has organized these series of workshops after listening to hundreds of parks and recreation directors who have shared with PlaySafe, LLC what they feel are their most critical training needs. The workshops are updated regularly and are individually designed for the agency. 
Below is a list of courses that we currently offer:
Public Involvement Series
Public Hearings: This 3 hour workshop presents up to date information on how to conduct public hearings. Four different styles of public hearings are reviewed including the Open Forum Format, Discussion Focused Model, Presentation Based Approach, and the Priority Setting Method. Announcement procedures, setting requirements, guidelines, strengths and concerns of each public hearing model are presented. Booklet is provided.
Focus Groups: This 3 hour workshop covers the methods of how to conduct public involvement focus groups. Highlighted is the Q-SORT model which is a process that yields in-depth thinking of highly committed, well informed citizens. Presented in the workshop are the focus group methods including citizen identification and invitation, focus group issues development, facilitator guidelines examples and values of this method of public involvement. Booklet is provided.
Charettes: a charette is an intense public involvement method that asks citizens to spend a Friday evening and all day Saturday working in a design workshop model to assist local leaders in decision making about important proposals confronting the community. Citizens engage in site visits, brainstorming sessions, visual design experiences and dialogue. This 3 hour workshop covers the steps, benefits and implications of charette involvement. Booklet is provided.
Citizen Survey: this 3 hour workshop covers all aspects of creating, conducting and evaluating a citizen based pen and paper survey. Highlighted are survey goals, question preparation, questionnaire design, citizen sample selection procedures, in field data gathering guidelines and results interpretation. Examples of quality surveys are reviewed. Booklet is provided.
Voter Behavior Studies: A voter opinion and behavior study consists of a professionally constructed survey that uses scientifically based citizen selection processes with the intent to identify and understand the intended voter behavior of a representative sample of the registered voter. This 3 hour workshop covers all elements of the process including the design of the survey and selection of questions, the methodology of voter selection and cautions about understanding and using the results. Booklet is provided.
Complying with Public Open Meeting Acts: This 3 hour workshop consists of an in depth study of local, state and federal open meeting acts, rules and regulations. Specific laws and statues are covered. Other topics include: definitions that apply to the government official, compliance rules and regulations, depth and breath applications of the laws, and examples of do's and don'ts. Booklet is provided.
Planning Series
Agency Strategic Plans: This 3 hour workshop reviews all of the essential elements that compose an agency strategic plan. A comprehensive study of vision and mission statements, environmental scans, gap analysis, benchmarking, issues identification, action plans and evaluations are covered. Booklet is provided.
Master Plan Development: Contained in this 3 hour workshop is a comprehensive overview of what a master plan is, how it is prepared and ways to use the plan. Reviewed are the seven elements of a master plan including: community history, the population, provided resources, citizen input, national comparison standards, implementation plans and cost and funding strategies. Booklet is provided.
Feasibility Studies: This 3 hour workshop presents the latest information on how to prepare a feasibility study. The purpose, time, cost as well as the six elements of a feasibility study are covered. Presented are methods for determining legal, site, use, design, financial and administrative feasibility of a proposed project. Feasibility study cautions are also presented using current examples. Booklet is provided.
Environmental Assessments: An environmental assessment represents both good planning and compliance with various laws, bills, ordinances and codes. This 3 hour workshop covers what an environmental assessment is, when it needs to be completed, its timeframe, cost purposes, work teams involved, and the components of an environmental assessment. Booklet is provided.
Open Space Plan: The decision to purchase, protect and properly use open space land is difficult and at times controversial. This 3 hour workshop covers the elements that constitute a comprehensive community based open space land plan. Definitions, standards, planning steps, public involvement, criteria elements and other components are reviewed. This is not meant to be a technical workshop but designed for community decision makers. Booklet is provided.
Park Classification Study: This 3 hour workshop covers the steps to preparing a parks classification study. In order for professionals and community decision makers to make appropriate decisions for the future the community leader would need to know (1) how many parks currently exist, their size, amenities and condition, (2) what types of parks are they by park classification, (3) what park types are missing in the inventory and (4) what type, how many, and where should future park be placed. Booklet is provided.
Park Maintenance Standards Study: To allocate fiscal and personnel resources appropriately, a park maintenance study is necessary. This 3 hour workshop details how to prepare the park maintenance standards study. Elements include (1) park identification features, (2) park maintenance level of service classification, (3) associated staffing by tasks, time and workload and (4) equipment requirements. Booklet is provided.
Commission and Board Member Training: This 3 hour workshop introduces the current and new commission and board member to their role, responsibilities and duties. Elements covered include: (1) understanding government structure, (2) department organization, (3) CBM overview, (4) CBM procedures, and (5) CBM guidelines. Examples of successful approaches are presented. Booklet is provided.
Selecting Quality Consultants: This 3 hour workshop is designed to assist the parks and recreation department in the selection process of quality planning and design consultants.  The workshop covers such topics as:  solicitation of RFQ's, preparation of RFP's, measurable project scope of work elements, selection criteria, the scoring and interview process and contract negotiation.
Financial Series
Essentials of Grant Writing: This 3 hour workshop provides a complete introduction to the grant writing process including: (1) funding sources, (2) grant outlines, (3) contacting funding agencies, (4) reviewing proposal requests, (5) conceptualizing and writing procedures, and (6) successful proposal preparation techniques. Examples are shared of exemplary grant proposals. Booklet is provided.
Economic Impact Study: Many communities host a number of events that draw residents, users and visitors to the community. At times these individuals expend minimal to extensive dollars that are new to the community. This 3 hour workshop covers the steps to conducting an economic impact study, the purposes, benefits and cautions. Examples are shared that help the community decision makers better understand this economic gain. Booklet is provided.
Funding Strategies: This 3 hour workshop reviews the many funding options and scenarios that are available to a community when they are seeking new and additional funding sources. Examples are shared from communities across the country of the variety of ways that funding can be considered. Booklet is provided.
Special Event Economic Development: This 3 hour workshop details how a community can host a special event such as a festival, fair or sport event that yields economic vitality for the community. This session covers every aspect of special event management from event theme, naming, location and timeframes, to management committees, reports, details and evaluations. Booklet is provided.